Precast bricks
Specialist cladding and Structural units
If you're considering precast bricks for your next project, you need a precast specialist that will work with you to ensure the best results possible. Talk to Modular Clay Products today and we'll assist from the earliest stages of design to final manufacture and installation of cladding panels and structural units.
As one of the largest importers of bespoke precast bricks, we have the experience and expertise to accommodate any request for bespoke shapes, sizes, colours and textures – offering handmade quality combined with the economic and time savings associated with precast solutions. Choose Modular Clay Products and you'll have access to some of the world's leading precast brick manufacturers, able to deliver a wide range of finishes and brick textures so you don't have to compromise on design.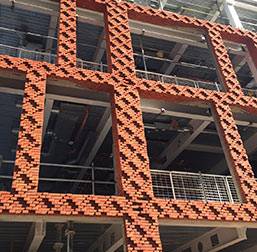 Our precast panels are designed and manufactured using a preformed grid to your specification, with bricks laid into exact position before the reverse face is sealed with a cement layer. This gives the appearance of hand-laid brick but with an accuracy that delivers consistency across huge areas of your building frontage. Using precast structural units onsite reduces the need for both personnel and equipment, freeing you from extended scaffolding and time-consuming wet-work, enabling a faster construction time and lower costs. Due to the high levels of accuracy used during construction our precast bricks avoid the 'panelling' that can be seen using lower quality units, plus we offer pointing at the time of manufacture or onsite to ensure continuity between precast panels and any hand-laid sections.
Aside from the cost-savings, using precast bricks means you're not as reliant on good drying weather, an important factor given the unpredictability of Britain's summers, enabling you to move forward with construction without delay. For more information on precast bricks and the range of sizes, colours and textures available from Modular Clay Products, call 01293 85 44 30 today and one of our experts will be happy to help.