Long Format Bricks
Popular mediterranean style bricks
As architecture evolves and designers look to more traditional materials for new builds, bricks have become one of the most interesting and varied sources of inspiration. With more colours and textures available than ever before, a façade can be transformed with a little imagination and a call to Modular Clay Products to discuss our latest brick designs. Roman bricks are becoming increasingly popular in the UK, with architects appreciating the dramatic effect these long, slender bricks can have on the aspect of any building.
Traditionally following a length of two feet by one foot, Roman bricks were fired in mobile kilns that followed the Empire as it expanded. Used for both civic and residential building projects, some original examples can still be seen today around the UK – but modern variations are also appearing in new builds across the country. While the aesthetics of Roman bricks may differ from our traditional brick, the level of quality in both selection of materials and manufacturing meets the rigorous standards we insist on for all the bricks we supply.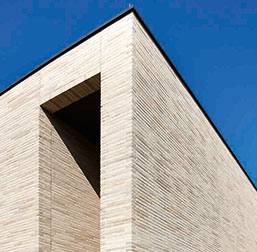 We source Roman bricks from some of the world's leading brick manufacturers, importing the best and making them available here in the UK. Choose Modular Clay Products and you're assured exceptional quality, uniformity and durability as well as a wide range of finishes to enhance any building project. With a variety of lengths and heights available, we also offer handmade, extruded and slop-moulded bricks that can be used to great effect – talk to one of our Roman brick experts today and they'll be happy to discuss your project and offer recommendations for colour and texture.
We believe that Roman bricks hold great potential for original design, and whether you're taking on a bold, contemporary build or need to blend with surrounding structures, talk to Modular Clay Products to ensure you're getting a superior brick. For more information on Roman bricks, call 01293 85 44 30 and one of our team can answer any questions you have and why not take a look at our simple brick selector to see our extensive range in brick types.